Spring Sale Offer: 10% Off All Products with Code: MJEQUIP10 ( Sale begins March 27th )

Looking for a cherry picker? Then you're in need of a piece of equipment with a hydraulic boom and a platform at the end to raise and lower people. Our engine powered boom lifts, known to some as cherry pickers, give you the reach and power necessary for the best outdoor performance. Boom lift specifications vary widely, so it's important to understand the needs of a particular job to speck the correct equipment. Both articulating boom lifts and telescopic boom lifts can tackle tough jobs. A telescopic boom lets you reach farther with more capacity, putting you right where you need to be as simply and efficiently as possible. But, if the job requires you to get up and over objects, you need an articulating boom lift. Here are your options: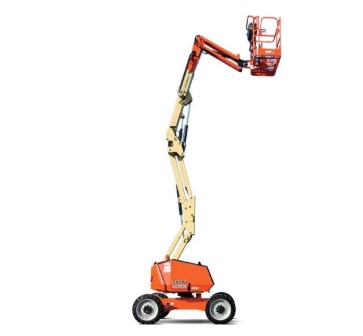 Articulating Boom Lifts
Versatile available jib takes you up and over obstacles for precise positioning
Choose from a wide variety of boom lift options that feature various platform heights up to 150 ft

Telescopic Boom Lifts
Straight boom provides greatest horizontal reach
Choose from our large selection of telescopic boom lifts that feature platform heights from 40 ft to 185 ft and platform capacities up to 1,000 lb
Contact our sales department online or at 1-877-355-5438 for current pricing and availability on new engine powered boom lifts.