Fill Short-Term Needs with Wisconsin Scissor Lift Rental
When you have a temporary need for a scissor lift, your most cost-efficient option is construction equipment rental from MJ Equipment. We provide scissor lift rental in Wisconsin from Racine to Oshkosh and anywhere within 100 miles of Cedar Grove, WI.
We'll meet or beat all competitor prices on electric scissor lifts and engine-powered scissor lift rentals from top brands like SkyTrak and JLG. Give us a call to discuss the model numbers, specs, pricing, and availability of our scissor lifts for rent. We'll deliver the equipment directly to your job site.
Scissors Lift Rates

BRAND/MODEL

HEIGHT

DAY

(24 Hrs.)

WEEK

(7 Days)

MONTH

(4 Weeks)

Skyjack SJ3226 Slab

25'9"

$175.00

$410.00

$880.00
WE OFFER THE FOLLOWING Scissors Lift MODELS FOR RENT:
Skyjack SJ3226 Slab Scissors

Lift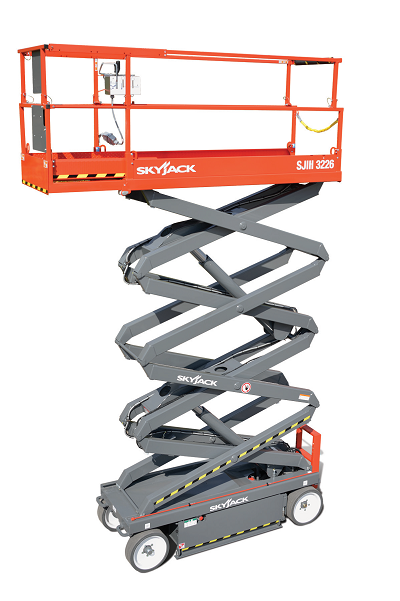 Platform Height - Raised: 26 ft
Platform Height - Lowered: 45 in
Platform Capacity - Overall: 500 lbs
Platform Length: 84 in
FAQ
What is a scissor lift used for?
Scissor lifts are used to lift people and materials. They are often used in cases where using a ladder or scaffolding is not feasible or safe. Our scissor lift rental reaches a raised platform height of 26 feet.
Can scissor lifts be dangerous or tip over?
When electric scissor lift rentals are used safely, they are not dangerous. However, they can become dangerous when used improperly. Make sure your lift is on solid, even ground before use. Never drive with the platform elevated, or you may risk tipping.
Do I need a license to operate a scissor lift?
Yes, OSHA requires employers to provide training and certification for any employees who operate a scissor lift. This is still true despite the fact that OSHA considers scissor lifts to be scaffolding, rather than aerial lifts.